Road Test
After so many amazing facials, I decided to give back and treat my son to the Darling special.
The lowdown I have finally pinned down Jonah for a facial. I place a towel on the bed and have another to cover him, and I also have a Chanel wrap to keep his hair out of the way. I have a bowl of warm water and a washer primed, and a low stool that I sit on at his head as he lies across the width of the bed.
I begin with a cleansing balm that I warm in my palms and place under his nose, so he can take in the aroma (I have learnt well).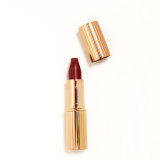 I firmly massage the balm into his face and beard, then wash it off. Next comes a…